UK Property Market
In the UK the best properties for investment are the smaller, lower cost properties. The reason is that these properties are in high demand for rental and thus deliver the best rental yields. Unlike other countries, in the UK small house are more popular than apartments and if well managed, deliver better net rental returns.
Our experience has shown that small terraced houses in high rental demand areas (where there is a shortage of housing or where people cannot afford to buy and thus have to rent), are delivering the best rental yields of over 8%.
Prices for such low cost properties – fell sharply from 2007 to 2009 following the financial crisis. Prices have been stable over past 4 years but are now rising. The rate of increase is now increasing due to the economic recovery. Some forecasts suggest a rapid catch-up rise followed by more steady growth over next 6 years.
The chart below shows the average price of properties that were selling for £50,000 in year 2000. You can see that prices rose until 2008 and then fell sharply. Prices are expected to rise again (shown by green dots).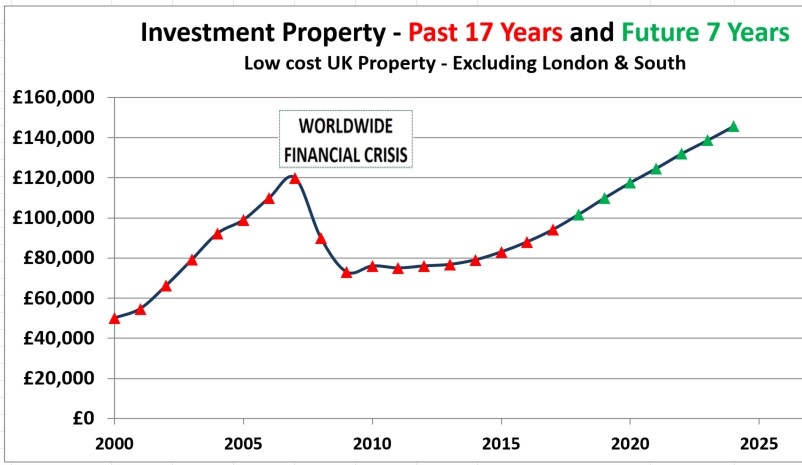 Thus our view is that sub £100,000 properties (away from London) are the best for investment as they not only deliver the best rental but are now also expected to grow the most in terms of capital value.
Comparison of Investment Property in 3 Areas
Here is a comparison of 3 areas and different types of property. The 3 areas are:-
North West

West London/Heathrow

Southern Towns
You can see that for the same size and specification of property, prices in the North West near Manchester are much lower and rental yields are much higher. For the same price of a 2-bed terraced property near London you can purchase FOUR such properties in Lancashire and get more rent, better forecast capital growth and more flexibility.
1.NORTH WEST
These properties are in the North West where property prices are depressed and future capital growth is likely to be strong. These include Manchester and Lancashire Towns. This is the most popular area for our investors.
Manchester/Lancashire/North West
Type of House

Price

Rent

% Yield

4-Bed Detached

£199,000

£8,000

4.0%

3-Bed Semi Detached

£129,000

£6,500

5.0%

2-Bed Semi Detached

£119,000

£6,000

5.0%

3-Bed Terraced

£69,995

£5,500

7.9%

2-Bed Terraced Large

£59,995

£4,800

8.0%

2-Bed Terraced Standard

£54,995

£4,420

8.0%
2.WEST LONDON
These properties are around Heathrow, extending from Slough along the M4 Corridor to West London. Rental demand and rental yields are better than other areas of London and future capital growth will be helped by the Cross-Rail Link which is under construction. Property in central London is too high to even consider.
West London/Heathrow
Type of House

Price

Rent

% Yield

4-Bed Detached

£499,000

£16,000

3.2%

3-Bed Semi Detached

£399,000

£13,500

3.4%

2-Bed Semi Detached

£349,000

£12,300

3.5%

3-Bed Terraced

£329,000

£12,300

3.7%

2-Bed Terraced Large

£299,000

£12,000

4.0%

2-Bed Terraced Standard

£249,000

£10,000

4.0%
3.SOUTHERN UPMARKET TOWNS
These are the popular English Towns like Oxford, Cambridge, Canterbury, Bath etc. These locations are good for own use property – not investment. Prices are similar to West London and rental yields are lower.
Oxford / Cambridge /Southern Towns
Type of House

Price

Rent

% Yield

4-Bed Detached

£399,000

£14,000

3.5%

3-Bed Semi Detached

£349,000

£12,500

3.6%

2-Bed Semi Detached

£329,000

£12,000

3.6%

3-Bed Terraced

£299,000

£11,500

3.8%

2-Bed Terraced Large

£249,000

£10,000

4.0%

2-Bed Terraced Standard

£229,000

£9,500

4.1%
Key Facts
North West properties are less than 25% of the price of West London and Southern Towns for similar type and size of property.

Rental yields are almost double in the North West as property values are low. Demand for rental property is high.

Rental yields decrease as property price increases and this trend applies to ALL areas. The smallest properties are the best for investment.

Terraced properties are lower cost and give better rental returns than semi-detached and detached, which are popular for own use.

These are the reasons why our best-selling investment properties are 2-bed to 3-bed terraced houses for around £55,000 to £70,000. If your budget is larger, buy multiple low cost properties. This is better than buying a more expensive property in London or buying more expensive detached/semi-detached properties.
Prices by Region
Find UK Property have divided the UK into 3 main Regions.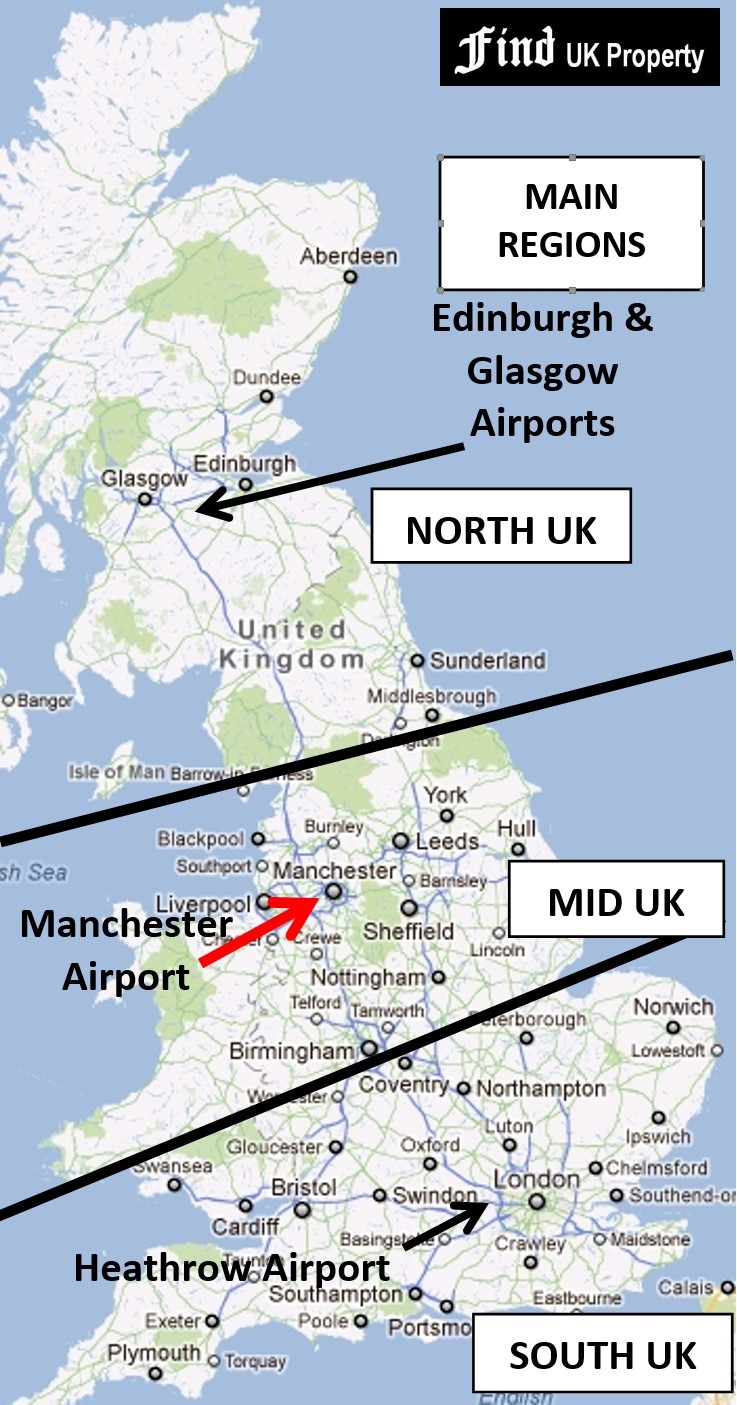 MID UK Property Region
This is the best value region for overseas buyers looking for any property in the UK. The region is centered by Manchester International Airport which is second largest to London Heathrow and amongst the top 10 international airports in Europe.
There is also International Airports at Birmingham and Liverpool in this region. It encompasses the areas of the North West, Yorkshire, East Midlands, West Midlands and most of Wales.
A popular region for low cost investment properties with high rental yields is the region north of Manchester Airport including Lancashire.

SOUTH UK Property Region
This region includes the South East, South West, East Anglia, Greater London and Inner London. It accounts for about 50% of sales of luxury detached UK properties. Properties in London are the most expensive, but there are relatively few large detached properties in London. Most of the London properties over £ 750,000 are in-fact apartments and terraced houses.
Within this region, the South East is the most popular for sales of detached luxury UK properties and prices here are about 70% more expensive than in MID UK.
The main airport serving this region is London Heathrow Airport. There are also other airports nearby including Gatwick, Stanstead and Luton.
The region around Heathrow Airport including West London/ Slough area is also a very popular region for investment properties with high rental yields.
We no longer recommend investment properties in or anywhere near London or the South as the prices there are very high and the % rental yields are too low. The same property which we sell for £60,000 here in Mid UK Region is over £300,000 in the South. In the past London has done very well in capital growth – however this is less likely to be the case going forward and the risks of buying here are ow higher. Many clients just RENT near London (if they have to be near London for holidays or work) but they BUY multiple low cost investment properties away from London as this gives higher income now, and better potential for the future with lower risks.

NORTH UK Property Region
This includes Northern England and Scotland and accounts for less than 10% of the property market. However prices are lowest here and large country estates can be purchased for little more than 1m.