Investment Properties with Mortgages
Our investment properties can be purchased with Buy-to-let Investment Mortgages. Most mortgage lenders have minimum loan criteria and thus mortgages are only available for property type H5 or larger. Such investment mortgages are not regulated and are different to consumer mortgages. Currently our deals are only available to investors meeting the criteria below.
UK Resident
Salary over £25,000
Savings of £30,000
Good credit rating
Watch Mortgage Video First
Please watch this video in FULL before you apply for further information. Also watch the main property video at top of the home page of our website. This mortgage video is divided into two sections
Section 1 – 8 Facts about buy-to-let mortgages -30 minutes
Section 2 – 8 steps in the buying process -15 Minutes
Mortgage Ready Properties
These four main category of houses, Types H5, H6, H7 and H8, are available on mortgages. There may also be sub categories within each type available at time of selection (and on these the pricing may be slightly lower or higher than shown).
All houses shown here are fully renovated & guaranteed and come with the net guaranteed rent system. The Forecast Deposit payments include ALL costs, including solicitors, mortgage broker, valuation, insurance etc.
The prices for the properties are same as for cash purchases shown on the home page. In order to make it easy for clients to budget, we have indicated the Forecast Deposit needed for each type of house. This forecast deposit includes all costs.Our policy is to advise on slightly smaller loans to keep mortgage risks and payments lower.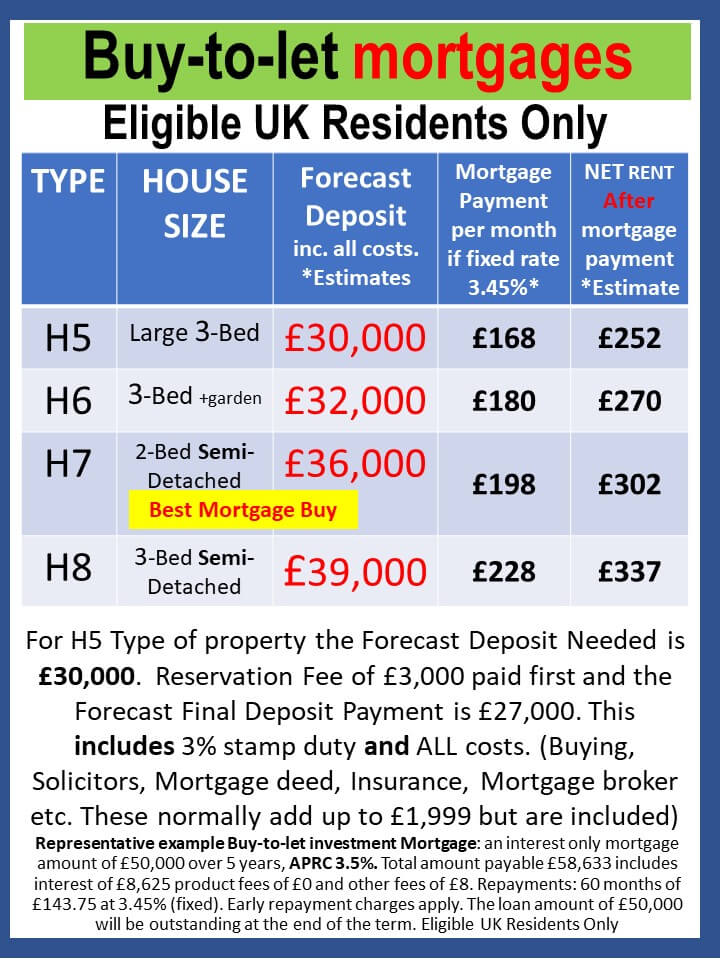 House Types
H5 to H8 houses. See home page for further details on the properties and latest cash prices. We sell investment properties only – not for own use.
Locations
We are managing over 2,500 such houses and all are located in 28 towns in the North. All are North of Manchester and North of Leeds. Prices here are lower and rental yield and potential growth higher. We do NOT sell anywhere else.
Ideal for Passive Investors
-Total investment package – not just a property
-All properties fully renovated, compliant & rented out.
-Long-term guarantees on property
-Full repairs and maintenance at our cost
-Re-renovations at each tenant change – our cost
-Net guaranteed rent system @ 6% of property price
-Property fully maintained and managed at no extra cost to buyer.
8 Steps in Purchase Process
The 8 steps are explained in detail in section 2 of the mortgage video. The process we follow is very structured and different to buying in the open market. It flows smoothly, is faster and with full money back guarantees. Please watch the video in full before contacting us.
Step 1. Zoom meeting with consultant
Step 2. Provide ID & Mortgage information
Step 3. Make Reservation, pay £3,000
Step 4. Mortgage application in principle Also attest passport & address ID.
Step 5. Select specific property
Step 6. Final application & inspection
Step 7. Finalize deal & instruct solicitors
Step 8. Purchase completion by solicitors
Click to complete enquiry form below. Specify mortgage needs in "other requirements"
Initial Agreement and Pricing
All clients make a reservation for H5 type of house but this can be upgraded to H6, H7 or H8 at time of property selection depending on their wishes. For typical H5 purchase the client pays £3,000 at reservation and £27,000 final payment. Total forecast cash cost to client £30,000 including ALL costs.
Mortgage Guarantee
If the mortgage is not approved or if the actual deposit payment is more than £3,000 than the forecast deposit payment due to a lower loan (which has the benefit of a lower mortgage payment), then the investor has option to cancel the purchase and obtain a full refund of reservation payment. The loan amount may vary depending on the lender and circumstances and thus the actual deposit payment could be a little more