Build a Portfolio with Mortgages
Use buy-to-let investment mortgages to build an investment portfolio of many properties over a period of time. Buying each property cash first and then re-mortgaging 6 months or more later, to release 75% of the value, is better than using upfront mortgages. It is easier, quicker, cheaper and more likely to be successful for all the reasons listed below. We no longer sell with up-front mortgages as these take a long time to process and success rates are lower. The alternative to mortgages is to use our DIY2 deals to build a portfolio. In-fact, after all considerations these work out better than mortgages. Please see the video on the DIY2 page.
INTEREST RATES – Interest Rates are now higher and rising further. Buying Cash first, keeps your options open and allows you to re-mortgage later, if you wish, once rates are stable and long-term costs are known.
JANUARY 2023 – We no longer do mortgages
High interest rates and fees in relation to low cost houses mean they are no longer good value for money.  Please consider our DIY2 deals instead which are overall better when you take everything into account.
General Facts About Mortgages
Please watch this video for general information about mortgages. Also watch the main property video at top of the home page of our website. This mortgage video mentions upfront mortgages but we now use a process whereby clients buy cash first and then re-mortgage 6 months later.  Please see below.
How to build a portfolio
Buy any Property CASH (e.g. Type H3 at £76,999)
Start getting rental income immediately (£4,620 for H3)
Wait at least 6 months (mortgage rules)
Use our Re-mortgage package below to release about 75% of value (e.g. £57,000)
Add £23,000+ (from rent and own savings) and buy another property Cash.
Then Repeat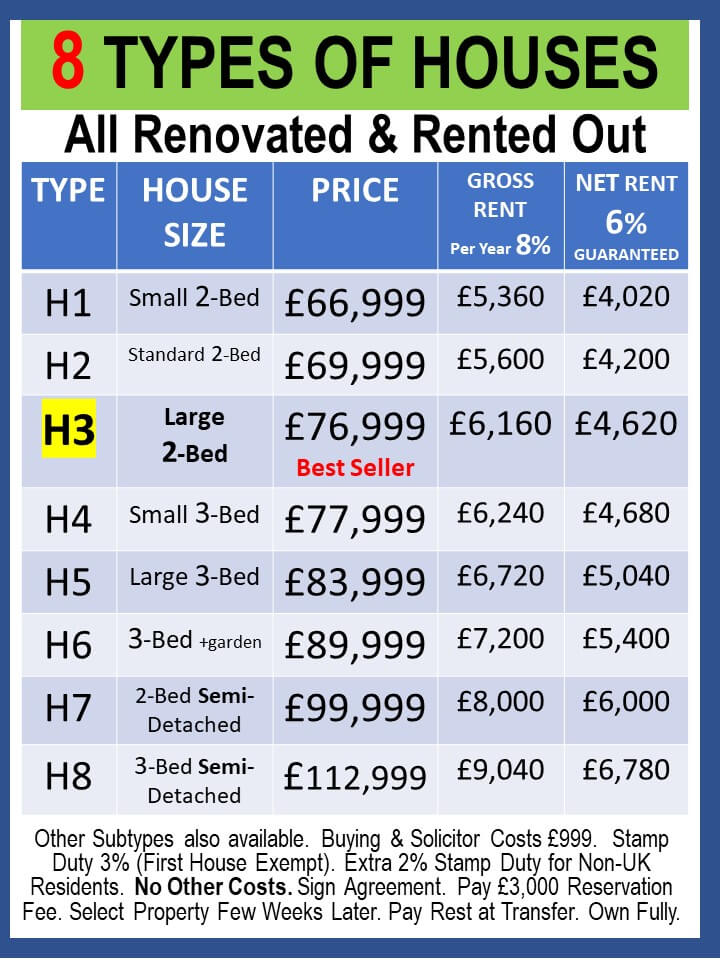 Re-Mortgage Offer
If the re-mortgage is used to buy another property from us, then the re-mortgage costs of £3,000 are credited – so the re-mortgage process costs you nothing. See more details on our re-mortgage package for existing clients.
Extra Property Every 1 to 2 Years?
On average, depending on how much they save each year, and the type of properties they buy, many investors can acquire an extra property each year. Thus ending up with 10 houses in 10 years. All acquired passively with guaranteed long-term income, no costs, and no repairs or tenant issues. If the properties acquired are larger, then the funds at each step are larger than example above.
Larger Properties Better
Whilst re-mortgages are available for all of our properties, the larger properties in the range are easier to mortgage. This is because some lenders state properties must be more than £75,000 value. Buying larger properties, H3 or above, gives you access to all the lenders.
Cash needed for each additional property
This table opposite shows the minimum amount of savings you will need for each extra property purchase (assuming you are buying the same type of property as you have re-mortgaged). Of course you can mix and match property types and it is good to have a diversified portfolio. We can work individual forecasts for you at time of your purchase.
Upfront Mortgages
We no longer offer upfront mortgages as these mortgages take a long time to process (4 times longer than cash sales) and we cannot hold properties for such long periods as demand from cash buyers is higher than supply. If you do not have at least around £70,000 in cash to buy the first property, unfortunately you cannot use our mortgage system.
Why its better to buy first and then re-mortgage:-
You can get a better mortgage deal with lower interest rate and higher loan due to access to wider range of lenders
Mortgage is more likely to be successful – Criteria are less strict
You have access to wider range of properties – re-mortgages are possible even on lower cost properties.
Cash sales are twice as quick – You become owner within 2 month of reservation, whereas with mortgage sales it can take over 4 months
If you use our Re-mortgage package and later use the released funds to buy another property from us, then the re-mortgage costs are FREE.  So overall this method ends up being cheaper.
Buy a property now & get process started – Complete the Enquiry Form below.
RE-MORTGAGE PACKAGE
Our re-mortgage package is presently only available to clients who have purchased a property from us and have owned it for at least 6 months. Thus, if you buy an investment property from us or own an investment property currently managed by us, then we can help you re-mortgage it with our buy-to-let re-mortgage package. We organise everything and help clients deal with and pay for independent mortgage services, solicitors and surveyors appointed by lenders – with an agreed fixed total cost of £3,000 which can be paid via the client account.
RE-MORTGAGE OFFER
If you use the re-mortgage funds to buy another property from us, then we will credit you £3,000 – so in such a case, the re-mortgage is effectively FREE
STEPS IN PROCESS
Contact us and order Re-mortgage Package
Make £3,000 payment to Client Account.
Mortgage Broker will make mortgage application & get approval
Solicitors will complete the re-mortgage
The mortgage funds will be paid to you by solicitors
If you purchase another property from us, linked to the re-mortgage, we will credit you £3,000
MORTGAGE BROKERS
Mortgage brokers have access to the entire market and work with you, to obtain the best re-mortgage deal for you. Not all lenders work with such low cost properties and our recommended brokers understand this market well, and are more successful in getting the best deals and faster completions for clients.
Access to almost all lenders in UK
Match criteria (client & property) to best lender
Rates vary from under 3,5% to over 4.5%
Loans vary from 65% to over 75% of value
COSTS & FEES – FIXED £3,000
For our Re-Mortgage Package, we fix costs at £3,000 for Everything below. This is lower than normal average costs in market for everything below.
Mortgage Broker Fees (Avg. £800 +VAT)
Mortgage Valuation (Avg. £300 +VAT)
Mortgage Booking Fee (Avg. £200)
Mortgage Conveyancing Fees (£500 +VAT)
Solicitors Fees (£500 + VAT)
Searches & Land Registry (Avg. £500)
Any additional insurance required by lender
All other admin costs including getting all the compliance documents ready.
TOTAL individual costs in market – Over £4,000. We subside the fees paid on your behalf – so you pay Just £3,000 fixed in Total.  Plus this whole £3,000 is credited to you if you use the re-mortgage funds to buy another properyt from us.
RE-MORTGAGE GUARANTEE
The £3,000 Fee is Refunded 100% if Re-Mortgage is not approved.